Printers : Ricoh Priport DX 4640PD Digital Duplicator PostScript3 Driver - Version: (1.1)

Ricoh Priport DX 4640PD Digital Duplicator PostScript3 Driver 1.1 for Mac OS.
For high volume users wanting to accelerate print production and reduce costs, the Priport DX 4640PD is a clear winner. This innovative product boosts productivity, enabling you to print both sides of an A4 page in a single pass, at an ultra-fast 240 prints per minute (ppm). It saves time and money by making high volume, double-sided printing a simple, continuous process. The network-ready DX 4640PD's flexible paper handling and advanced High Quality system give you the power to print outstanding quality documents on a variety of paper stocks up to A3 size.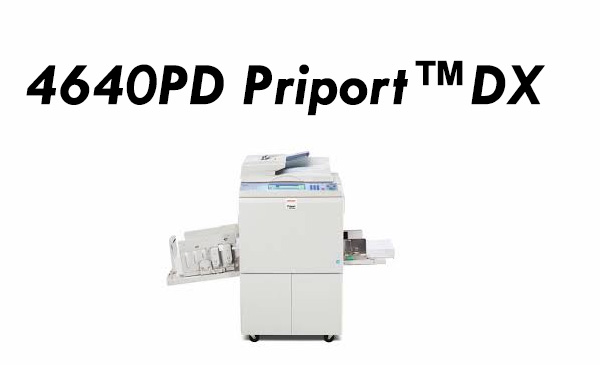 Priport DX 4640PD Features and Benefits
Ultra-fast duplex printing.
Increase high volume productivity.
Create impact with spot colour.
Low cost, high volume printing.
Superb, consistent print quality.
High performance
Smart paper feed Easy colour drum change
Several editing functions
Optional PC controller
Priport DX 4640PD Specifications
Printer language: Standard
Interface: USB 2.0, Ethernet 10 base-T/100 base-TX, Bi-directional IEEE 1284, Wireless LAN (IEEE 802.11b)
Memory: 128 MB (64 MB resident + 64 MB additional memory), 320 MB (with optional 128/256 MB)
Network protocol: TCP/IP, IPX/SPX, NetBEUI, AppleTalk
Supported environments: Windows® 95/98/Me/NT4.0/2000/XP/Server 2003, Macintosh 8.6 - 9.x (OS X Classic), Macintosh X (10.1 - 10.4) (native mode)
Type : Digital, desktop
Printing process : Fully-automatic one-drum stencil system
Originals : Sheet (one original sheet only)
Original size - Minimum : 90 x 140 mm
Original size - Maximum : 275 x 395 mm
Print paper size - Minimum : 90 x 140 mm
Print paper size - Maximum : 275 x 395 mm
Print paper weight : 35.0 - 127.9 g/m²
Print area - DX 2330 : Maximum 210 x 355 mm
Print area - DX 2430 : Maximum 250 x 355 mm
Print speed : 60 - 90 sheets per minute (2 steps)
First print speed : Less than 45 seconds
Image modes : Letter mode, Photo mode, Photo/Letter mode
Image position - Vertical : ± 10 mm
Image position - Horizontal : ± 10 mm
Reproduction ratios - Pre-set enlargement : 115,122,141%
Reproduction ratios - Pre-set reduction : 71,82, 87, 93%
Zoom : No
Color printing : By replacing colour drum
Paper feed/delivery table capacity : 500 sheets (80 g/m²)
Power source : 220 - 240 V, 50 - 60 Hz
Power consumption - Maximum : Master making: less than 175 W
Power consumption - Printing : Less than 175 W (at 90 sheets per minute)
Power consumption - Standby : 35 W
Priport DX 4640PD ADDED VALUE FEATURES
Combine/Image Repeat Mode, Margin Erase, User Codes, Confidential/Security Mode, Auto and Directional Magnification, Overlay Mode, Programme Mode, Class/Memory Mode, Makeup Function, Auto Density Control, Auto Shut Off Mode, A4 master cut with A3 drum and Skip Feed for simplex printing
High-volume duplication with duplexing.As the industry's first duplexing digital duplicator, the RICOH®Priport DX 4640PDis specifically engineered to deliver large volumes of two-sided output with excellent image quality andoutstanding cost efficiency. This reliable, user-friendly systemsets a new standard for affordable, high-volume productivity. It enables healthcare providers, print-for-pay facilities, centralreproduction departments (CRD) and others to dramatically increase output speed while keeping cost-per-page extremely low.
The Ricoh Priport DX 4640PD delivers high-quality output for every document it duplicates.
The Ricoh Priport DX 4640PD is geared for cost-conscious users who need to increase output volumes and keep operating costs as low as possible.
The Ricoh Priport DX 4640PD delivers output speed and image quality that rival the capabilities of asmall printing press, yet it is as easy to use as aconventional copier.
The Ricoh Priport DX 4640PD comes equipped with several ways to streamline administration.
The Ricoh Priport DX 4640PD delivers the reliable performance necessary to ensure smooth,uninterrupted production and strong, long-term investment protection.
For many kinds of users, the Ricoh Priport DX 4640PD offers a smart, affordable way to complete high-volume print jobs quickly and cost effectively.
Device Manager NX Lite DL01.01.01
This is a PC Client based application program that monitors and manages up to 250 networked print devices. It works on Microsoft Windows Server 2019 (x64), Server 2016 (x64), Server 2012 R2(x64), Server 2012 (x64), Windows 10, 10 (x64), 8.1, 8.1 (x64), 7, 7 (x64) and supports: English, French, German, Spanish, Italian, Dutch, Simplified Chinese, Traditional Chinese, Korean, Brazilian Portuguese
Download Device Manager NX Lite version DL01.01.0
Printer Driver Packager NX 01.01.16
Printer Driver Packager NX is a tool for IT managers to customize and package printer drivers. Customizing allows them to control employees' printer driver settings. Packaging allows IT managers to preset all the mandatory parameters for the printer driver installation. Also multiple printer drivers can be gathered into one package so they can be installed by end users as a single execution.
Download Printer Driver Packager NX version 01.01.16
Printer Driver Download
PostScript3 Windows Driver
Ver.2.0, Released Date: 31/08/2015, File Size : 272 KB
By interacting with the PostScript 3 controller in the device, this driver is able to produce an accurate representation of the screen image.
RPCS Windows Driver
Ver.7.70 Released Date: 26/11/2014, File Size : 3,880 KB
Printer driver for Windows: It is optimized for the Windows GDI. High performance printing can be expected. Regularly used settings can be saved as a "one-click icon" in the driver interface. These settings can be reused easily by clicking the icon.
PPD Installer, Mac OS X 10.10 to Mac OS X 10.14
Ver.4.4 Released Date: 14/01/2019, File Size : 301 KB
This PPD installer is used to install a PPD (Postscript Printer Description) file on Mac OSX. PPD files contain descriptions of printer capabilities such as paper sizes, number of input trays and duplexing. Once the PPD file is installed on the system using the PPD installer, the PS driver that comes bundled with Mac OS X can use the information in the PPD to control the print device and enable full functionality. Please see the Readme file for information about compatibility with versions of Mac OS X.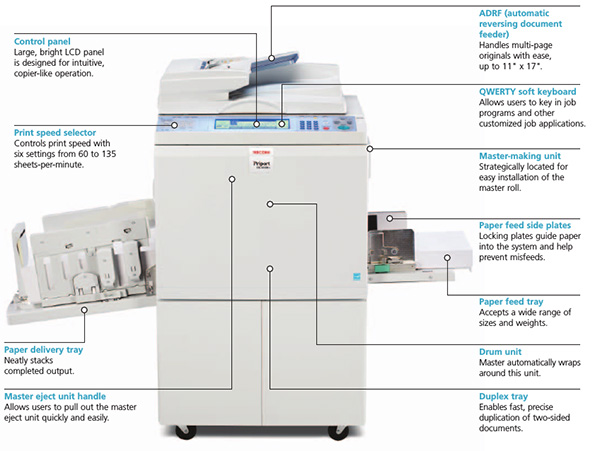 Features
Dare to overachieve
Need to print large amounts of duplicate pages? The Ricoh Digital Duplicator is a versatile, high-speed digital duplicating machine for modest daily tasks or serious production runs. Produce compelling content at 60 to 135 pages per minute (ppm) with offset-like image quality. Engineered to be overworked but not overpriced, the user-friendly DD 6650P digital duplicator offers the durability of up to 4,000-sheets per master-template, plus a monthly print volume of up to 250,000 pages.
Apply superior color imaging
Use Ricoh's proprietary imaging system to produce competitive output at true 600 x 600 dpi resolution. Evenly distributed fast-drying ink produces single-color page printing with clean edges, without offset or bleeding. Use it to handle your choice of single colors without compromising efficiency or your budget.
Explore more media choices
Start your production runs backed by a 1,000-sheet standard paper capacity, and achieve fewer interruptions for a consistent workflow. The digital duplicator is equipped with an innovative paper clamping system for accurate ink registration, and produces smooth half tones and sharp fine lines for superior output. Print on a variety of media including envelopes, vellum, and NCR in weights from 12.5 lb. Bond to 110 lb. Index - at sizes up to 11" x 17".
Get the same production with less energy
Enjoy a host of convenient features that reduces energy consumption without compromising performance. Reduce your operating costs with the energy-saving sleep mode to cut power costs, and activate the Automatic Shut-Off mode to deactivate the device when it's not in use. Plus, because the digital duplication process doesn't require heat, you can produce sharp images with excellent contrast while still conserving energy.
Put the user first
Take advantage of an easy-to-use touch screen for exceptional control of primary operating functions. Easily communicate commands using the control panel's large LED-backlit keys, so walk-up users can effortlessly navigate print and copy jobs. Utilize intuitive prompts, graphics and more to check your system status. Plus, use a one-button control for printing and master-making to expedite tasks and minimize input errors.
Manage the machine your way
With the digital duplicator, you get flexible connectivity and management options. Connect easily to standalone computers or a network, and print from more sources using the built-in Refined Print Command Stream™ (RPCS) controller and the optional Adobe® PostScript® 3™. Additionally, the RICOH @Remote™, Web Image Monitor and SmartDeviceMonitor utilities provide fast, easy desktop administration to quickly get your print run moving.
Operating system Support:
Mac OS
File name:
r553a2en.hqx
Note: Keep your hardware drivers up-to-date, and remember before installing any device driver to set a system restore point.